India v/s England: Kohli questions England's break
|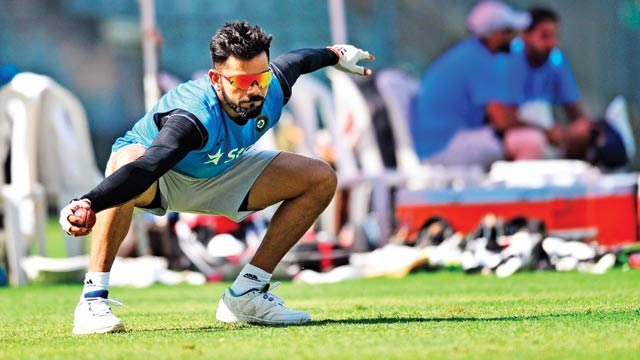 Virat Kohli does not believe in mincing words. He is clear when he says that he too would like to do what England did when on a long tour. They switched off completely and went to Dubai to unwind themselves in the eight days' break that they got between the third and fourth Tests.
If not that, at least come back home to be with friends and relatives when there are big gaps between matches.
There have been times when India have toured abroad for three or four months at a stretch and the players have no option but to stay there even if there is a break between games, and work under the privy eyes of the media, leaving less room for relaxation.
Kohli was affirmative in his thought when he was asked if his boys should also get a break similar to the English. "Absolutely, or we should come back for a month as well from England. No point we play there for three-and-a-half months and everything we do is in the media's eyes, even our off time is scanned. I don't have any news of them enjoying their holiday in Dubai at all. I would like to see the same thing happen, either they stay the whole tour or we come back for 25 days as well," said Kohli here on Wednesday, the eve of the fourth Test at the Wankhede.
After the fifth Test from December 16 to 20, England return home for Christmas and New Year before their ODI leg of the series starts in second half of January 2017. And, this was not the first time that they have gone back home for Christmas and reassembled for the ODI leg. They did it in 2001-02 when after the three-Test series in December, they had more than three-week's gap before the ODI series. On their last trip in 2012-13, the tour was split into two parts, Tests and two T20s before Christmas and the five-match ODIs after the New Year's Day.
Unlike England, a majority of whom went to Dubai for the break, Kohli and Co were back home to be with family and friends. It was a kind of welcome break from the hectic schedule of international cricket.
"Very important, even when you go home during the break. Honestly, between the series you can't completely switch off because it will always be there on your mind as to what you have to do in a match. As a captain, you will keep thinking about the combinations you can play, how will the wicket be. (At the same time) not too much also. It's important that you enjoy life beyond your profession," said the skipper.
"A lot of times in our country, we look at these things differently that you have to keep thinking about cricket. But it's up to you as an individual to weigh in how much stress you can take, how much time you want away from cricket. Because, only you can control your performance and at this level, all are professional cricketers and they do understand all these issues. In fact, they were looking forward to practicing. That happens only when you are mentally fresh – you are excited again to practice, practice those skills and discipline. As I said earlier, the break that you have got is a good thing," he added.
Kohli said the gap before the fourth Test was good.
"We didn't ask for the gap, it was part of the schedule," said Kohli sternly. "(We'll) make sure when we go there, we also have eight days' gap after the three Tests and 25-day gap between Tests and ODIs. We didn't ask for it but seeing the long season ahead, it did us no harm. It actually helped us rest a bit, reflect on what we have done in the two games that we have won and visualise again and come back even more fresh compared to the last two Test matches. It was a good thing that happened and we certainly benefitted from it," he said.
So, people who think that the gap might have affected the Indian team's momentum, Kohli's answer is clear 'No'.
Source by dnaindia….